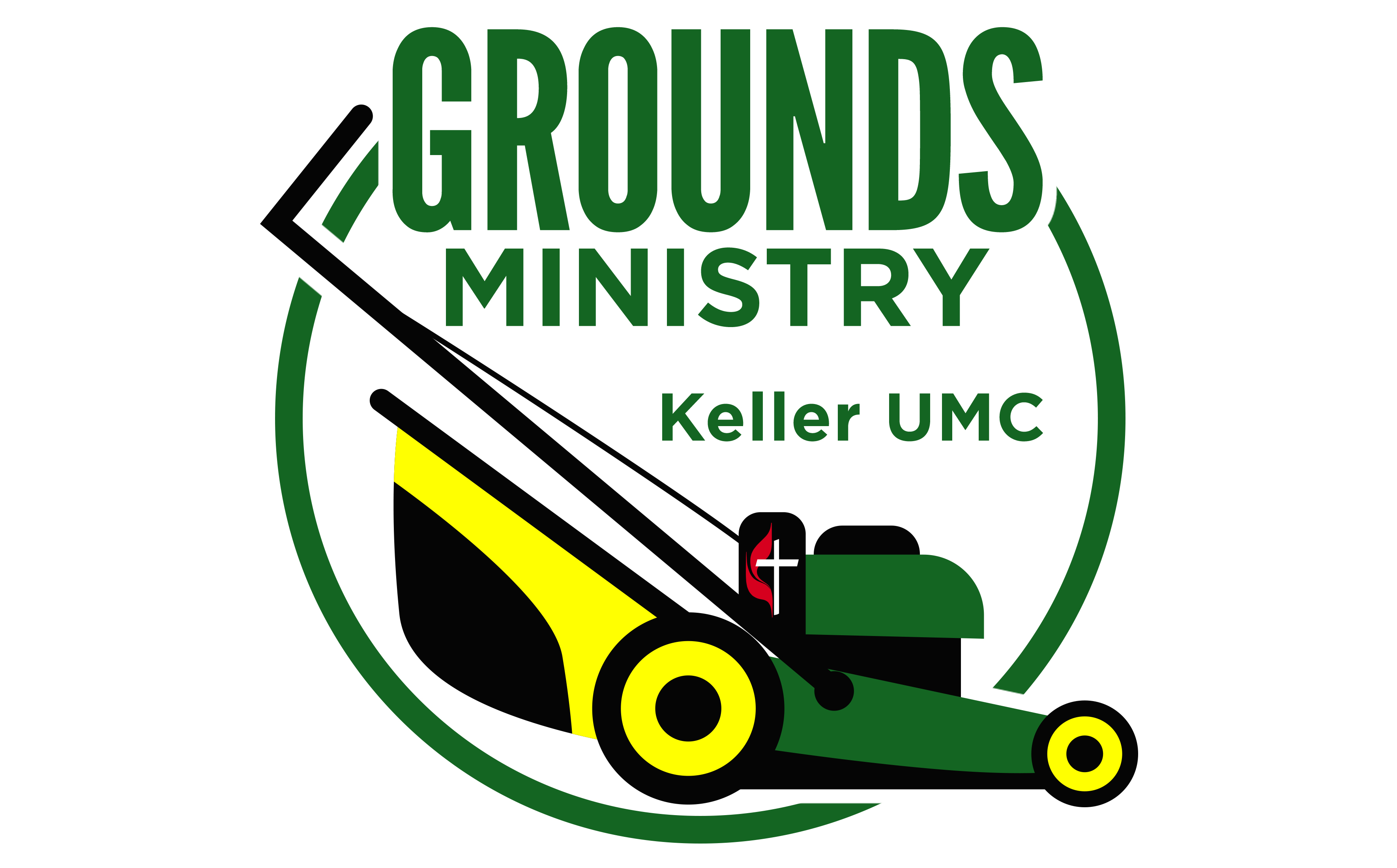 Serve with the Grounds Ministry
First off, a little history...volunteer KUMC grounds mainenance started prior to the completion of the Disciple and Administration Center, (DAC), around 2014. Church leaders realized a mower was sitting unused for several years. A staff member asked me if I could get the mower running (I assisted in the purchase of the mower several years earlier). His hope was to have church members maintain a portion of the grounds, therefore saving Keller UMC money.
After repairs and basic maintenance had the mower up and running, I started maintaining a portion of the grounds. As time went on, David Gerig asked if he could help. Of course the answer was yes! This was the start of the Keller UMC Grounds Ministry! David and I began recruiting others to join. As the team worked, others asked if they could help. Currently the Keller Grounds Ministry has 4-5 active members.
In Summer of 2019, church leaders asked to expand the areas of responsibility. So here we are...
You might wonder why I choose to do this work. Several reasons,
1. It's my way to serve the Lord and Keller UMC. I strive to make God's House presentable and an asset to the community.
2. I have always liked managing turf, mowing if you will. I have been doing it since I was 5 years old!
3. I enjoy getting outdoors and having some physical exercise.
4. It saves the church money.
Why should you be involved? We currently pay approximately $40,000 a year to have our grounds professionally maintained. This includes turf maintenance, fertilizing, pre-emergent application and caring for beds. My thought is that we can save the church additional funds by "doing it ourselves". This could free up monies that could be used for other missions, facilities or debt reduction.
Grounds Ministry volunteers serve by maintaining church grounds. We edge, weed whack, blow sidewalks, drives and parking areas in addition to mowing. Taking care of our grounds is more than mowing grass. It is caring for the physical surroundings which affect our community. These volunteers are not afraid to get their hands dirty and take pride in the upkeep of the Lord's house. We seek those who want to use their gifts and abilities to help maintain our church grounds.
We are currently looking to expand the areas we maintain and are seeking additional volunteer laborers. We really need help with all the additional jobs, edging, blowing, weed whacking, and if you have your own equipment that is a bonus. If you do not have equipment or experience, that is fine. We will get tools in your hands and show you how to use them!
We are also looking for a landscape professional or two to advise us. No manual labor needed, just share your experience!
And if you happen to have small engine skills, we would love to talk to you about helping with donated equipment and occasional maintenance help. I can handle basic maintenance but sometimes we need a little more.
If you enjoy doing this type of work and have a few hours on Saturday mornings, this is your chance to help the church! My hope is that we can eventually take care of the entire property and expand into bed care, fertilization, etc.
If you are willing to share your expertise as an adviser, please contact Grounds Ministry or sign up below!
Qualifications and Duties
- Desire to serve Keller UMC
- Must be 18 years or older*
*Volunteers under the age of 18 may serve with a parent or guardian.
- Ability to perform physical labor by operating edgers, weed whackers and blowers
- Trim shrubs, rake, install mulch, plant flowers
- Additional duties include policing grounds for litter, sticks

MISSION - Assist the church by providing grounds maintenance services.
VISION - Work with Keller UMC to maintain, improve and beautify church grounds.
VALUES - Never forget Christ's role in our lives and do everything to the honor and glory of God.
Laus Deo (Praise be to God!)