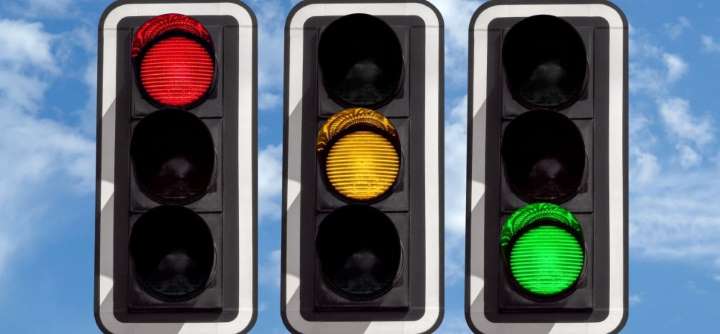 Phased Re-Opening Plan
As the last targeted church closure date of May 31 approaches, we know that many are wondering when Keller UMC will resume in-person activities. The Ministry Council of KUMC met on May 18 to establish a plan for a phased re-opening of the church, with careful consideration of current conditions. We are using the metaphor of a "Stoplight" as a shorthand way to understand the cautious resumption of in-person activities. As we share this plan, we hope the "Stoplight" example provides clarity, while we acknowledge that it lacks nuance. Therefore, questions will still exist as we move forward. We hope to provide answers as the plans are communicated and implemented.
The Stoplight Approach is a graduated three-level re-entry process from red, to yellow, to green status, in an intentional and careful model of care and connection. The phases make use of the KUMC values of Knowing, Loving and Serving.
Red Light Phase, LOVE:

This "Red light" shutdown phase is where we are now, and have been since March 22; the stay home phase of our ministry. In this phase we are

loving

through our commitment to shared sacrifice. We will continue with the adapted ministries that have been working in this phase until such time that it is

safe

to phase in newly developed plans for moving toward re-opening.
Yellow Light Phase, KNOW:

In this phase we begin a cautionary return to in-person activities. We see this phase as transitional and could progress over a number of months. We will focus on

knowing

how to do new things to address your spiritual and connectional needs. We will continue in our shared sacrifice of love, and gradually return to gatherings with caution. In this phase, ministries will have to be creative and adaptive as social distancing and reduced capacity will likely still need to be observed for overall safety and security.
Green Light Phase, SERVE:

When we finally reach this phase it will be because the virus is contained and people are safe. At this point, we will return to

serving

our community and the new needs that have arisen. This phase will begin when church leadership is confident in the safety of our community. The green light phase will involve a resumption of in-person activities, but is more a restart than a return to normal. Things might not return to the way they were pre-COVID, as we carry with us learnings from the pandemic.
As we begin to unpack this stoplight metaphor, a few observations about the rules of the road:
The road of discipleship is not closed!

The work of God continues in each of our lives. None of us are at a red light in terms of our growth in God's grace! We are very proud of all the ways that KUMC remains connected while separated. We are overwhelmed at the creative ways you have responded to the guidance of the Holy Spirit. We see pictures of people making their home a sacred place of worship. We know of calls made to connect and care for one another. Deepening prayer lives, serving the most vulnerable, and creative ways of sharing the Good News are all around us. The church's mission of making disciples continues.
Different ministries of KUMC are able to move at different speeds. While returning to small group meetings may move along quickly, returning to corporate in-person worship will likely be slower. Ministry Council sub-teams made up of members and staff are beginning work to develop plans for "yellow light phase" ministry in the areas of worship, children and youth programming, adult programming and staff operations. We will communicate these plans as they are made and invite you to continue to experience your church in exciting new ways. However, patience will be needed as ministries travel the road to re-opening at different speeds.
The Ministry Council and its designees are working to determine the conditions which need to be met for ministries to move from one phase to another; when it is safe to move, and how to move safely. The conditions are fluid and changing all the time so, like any responsible driver, we will all need to pay attention to the stop lights on our ministry roads to know what is the safest way to travel with one another.
Finally, the decisions before us are complex and difficult to take on all at one time. For instance, these are the guidelines that our Bishop, Mike Lowry, requests each church consider to re-open the road. As you can see they are thorough and require diligent attention. Additionally, the Ministry Council is staying focused on the following guiding principles:
First and foremost safety for staff, volunteers and congregation.

Timely communication to everyone about plans and the rationale in developing them.

Compliance with state and local guidelines.

Flexibility: knowing that adjustments will need to be made as information becomes available and circumstances change.

Sensitivity to the needs of the congregation to ensure a meaningful quality of ministry.
So while we cannot offer you a date for re-opening the church to worship or small groups at this time, we can reassure you that members of the Ministry Council, along with the staff and volunteers who are responsible for ministries and logistics, are putting plans together to move toward the "yellow light phase." With a steady eye on the external conditions and guidance from authorities regarding safe practices, we will keep you informed as those plans unfold.
The journey is long and the road is complicated, but we keep our eyes up to see the presence of God in the pillar of fire and column of clouds. We are thankful to have such faithful traveling companions in the Ministry Council, leadership teams, chairpersons, staff, members and most importantly, God in Christ through the Holy Spirit.
Yours in Christ,
Pastors Estee and Jason Valendy