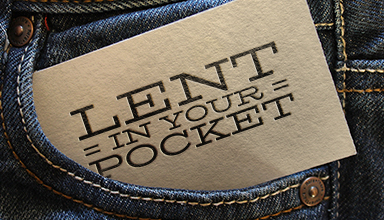 Lent in Your Pocket 3.25
Theme: We are limited in our understanding of God. How do we live this life for the Divine in which we cannot fully understand?
Scripture: John 14:15-17
If you love me, you will keep my commandments. And I will ask the Father, and he will give you another Advocate, to be with you forever. This is the Spirit of truth, whom the world cannot receive, because it neither sees him nor knows him. You know him, because he abides with you, and he will be in you.
Reflection: Seeking understanding has always symbolized who I am. When I was around nine years old, I recall being absolutely driven to find out where the "soul" was. Even with all my questioning and pushing, I could not get a satisfactory explanation. However, I continued to pray "Now I lay me down to sleep, I pray the Lord my soul to keep, if I should die before I wake, I pray the Lord my soul to take."
Years ago, I had a major surgery with a difficult post-op. I called the doctor every day looking for answers to explain my condition. On the fifth day, as I was being put off once again, I declared that I thought my "electrolytes were messed up," prompting the doctor to send me to the emergency room. Now, I had not considered electrolyte imbalance as the cause of my symptoms, nor I had "thought" such until I heard the declaration in my words. At the ER, I was told they would "try" to raise my sodium level. I drifted in and out of consciousness as the saline was being pumped in. I did not feel anxious or afraid.
When I had any awareness, I found the 23rd Psalm going through my head over and over again. I felt I had to keep repeating it to keep from slipping away. There is no doubt in my mind (or my soul) that God was with me, from giving me the words that got me to the ER through comforting and sustaining me with the Psalm.
I have lived a lifetime of seeking understanding. However, I live for the Divine by seeking knowing. To me, knowing is being open to God's voice, listening to what my heart knows, and being grateful for all that cannot be explained through rational thinking and reason.
Prayer: Heavenly Father, Guide us to continuously seek knowing you through the Holy Spirit within us. Amen.
Judy Belter
Ministry Council Chair, Keller UMC