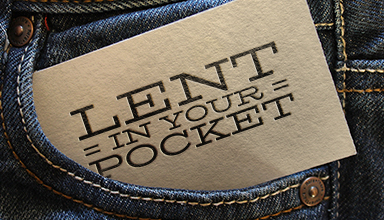 Lent in Your Pocket 3.24
Theme: We are limited in our understanding of God. How do we live this life for the Divine in which we cannot fully understand?
Scripture: Matthew 6:25-33
"Therefore, I say to you, don't worry about your life, what you'll eat or what you'll drink, or about your body, what you'll wear. Isn't life more than food and the body more than clothes? Look at the birds in the sky. They don't sow seed or harvest grain or gather crops into barns. Yet your heavenly Father feeds them. Aren't you worth much more than they are? Who among you by worrying can add a single moment to your life? And why do you worry about clothes? Notice how the lilies in the field grow. They don't wear themselves out with work, and they don't spin cloth. But I say to you that even Solomon in all of his splendor wasn't dressed like one of these. If God dresses grass in the field so beautifully, even though it's alive today and tomorrow it's thrown into the furnace, won't God do much more for you, you people of weak faith? Therefore, don't worry and say, 'What are we going to eat?' or 'What are we going to drink?' or 'What are we going to wear?' Gentiles long for all these things. Your heavenly Father knows that you need them. Instead, desire first and foremost God's kingdom and God's righteousness, and all these things will be given to you as well.
Reflection:
Uncertainty. Unfortunately, I'd say that's a common feeling these days. In the midst of the current crisis many of us are uncertain. Some uncertainties are big, while others are small, yet all leaving us with a feeling of discomfort…have I or will I be exposed to Covid-19? How will I care for my aging parents? Where will my next paycheck come from? How will I provide for my family? What do I need to plan ahead? And even, where will I find toilet paper? Uncertainty, while it may be a prevalent feeling now, is not anything new.
I was eleven when my dad unexpectedly passed away. A few weeks after his death, my family went to spend the weekend with my grandparents. When we came home we found an empty gift bag hanging on our back door with a note that read, "We thought we would get you some new bathroom towels, and well one thing led to another…" The bag was signed by the members of my parents' Sunday school class. We walked in to find all the walls in the house had been repainted, carpet and tile had been replaced, and furniture had been recovered. How a small group of people completely transformed an entire house in a matter of a few days is still mind-blowing.
Through this act of love, my family had a fresh start. We could see the potential for the joy that could still live within the walls of our home. Through their kindness and loving actions we knew that we were not alone, that God would provide for us, and we had a daily reminder that we were surrounded with God's love.
In today's scripture the people listening to Jesus had many concerns. They worried about their jobs, their families, their health, their children. Sound familiar? Jesus has an important and simple message for us. Don't worry! Jesus is not minimizing the reality of our daily lives. He knows we will face struggles and challenges. He is not telling us to be passive or lazy, either. His message is about the attitude of our heart. It goes straight to the core of what, even in my limited understanding, I know to be true about God, time and time again. God is Creator. God is Sustainer. God is Provider. God is trustworthy. God is dependable. God is, above all else, love.
Prayer:
Into your spacious heart and loving hands, dear God,
I place my fears,
my "what if's," my spinning world and mind...
Comfort me with the truth that no fear is too big for the Holy Lord, who is always with me. I am never alone.
Calming God, bring courage.
Tender Spirit, breathe peace.
Gentle Jesus, be close.
Amen.
Click for this Prayer in Coloring Sheet Form - credit Illustrated Ministry
Kristin Springer
Children's Director, Keller UMC