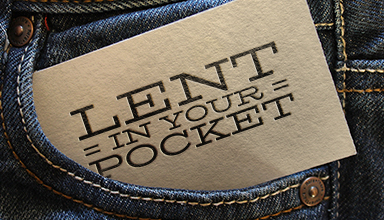 Lent in Your Pocket 3.23
Theme: We are limited in our understanding of God. How do we live this life for the Divine in which we cannot fully understand?
Scripture: Deuteronomy 31:6
Be strong and courageous. Do not be afraid or terrified because of them, for the LORD your God goes with you; he will never leave you nor forsake you.
Reflection: I am going to be very honest with you. I am a little anxious about the world around us right now. I find this mostly because of the unknown. How long will this last? How much toilet paper do I actually need? When will the grocery store have more food?
There are so many questions I have found myself focusing on, which quickly can lead to a spiral. The other day I thought to myself, how much have I actually prayed about what is going on? Even as a pastor I realize sometimes my mind does not always go to prayer first, but to worry. Today I would like to invite you to join me in five minutes of prayer. Take five minutes, set a timer if you wish and pray for the world around you. If you don't know what to say I encourage you to simply be still or repeat the Scripture from today.
"Do not be afraid. The Lord goes with you."
Prayer: ***Give yourself five minutes. You can do anything for five minutes. Give yourself permission to be, feel, request. Do not be afraid my friends, for the Lord will never leave us. Amen.***
Rev. Lauren Christenberry
Pastor of Connectional Ministries, Keller UMC