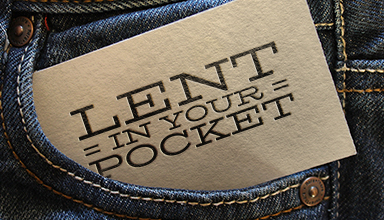 Lent in Your Pocket 3.21
Theme: As humans we often feel tempted to be relevant, spectacular, and powerful but we are limited. How do we live into who God has called us to be with the human limits we have?
Scripture: Acts 1:4-5
Do not leave Jerusalem, but wait for the gift my Father promised, which you have heard me speak about. For John baptized with water, but in a few days you will be baptized with the Holy Spirit.
Reflection: "Do you remember when I couldn't talk and you couldn't understand me? God told me what I needed to know and he knew what I needed." Does he still talk to you? What does he say? "Of course. You know. Like, at night. I've told you that we talk to each other. He tells me when someone else needs something, like a friend."
Passion and energy sometime swell from within as we prepare to celebrate our risen Lord and his endless love for us. Or maybe, we don't even know where to start to make a difference. I have heard stories that describe acts of the disciples and early church described both ways. Whether God is calling one to boldness or calling one to endurance, I often forget that He first asked us to wait (for Him to join us). I once overheard a mentoring session where someone said, "a good idea with bad timing is still a bad idea." May we use this time of lent to prepare ourselves to respond with action and grow discernment to recognize when 'everything is appropriate in its time.' Ecclesiastes 3:11
Maybe it is just as simple as my young son described the Holy Spirit and our journey within the autism spectrum: "God told me what I needed to know and he knew what I needed."
Prayer: God of all people, we constantly find ourselves striving for the next big thing. Seeking fame over a life of discipleship with you. Please reorient our priorities that we may seek to be people of love and grace, in your name. Amen.
Michael DeLaune
Stewardship Chair, Keller UMC