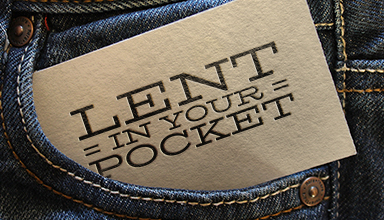 Lent in Your Pocket 3.19
Theme: As humans we often feel tempted to be relevant, spectacular, and powerful but we are limited. How do we live into who God has called us to be with the human limits we have?
Scripture: Mark 2:1-5
A few days later, when Jesus again entered Capernaum, the people heard that he had come home. They gathered in such large numbers that there was no room left, not even outside the door, and he preached the word to them. Some men came, bringing to him a paralyzed man, carried by four of them. Since they could not get him to Jesus because of the crowd, they made an opening in the roof above Jesus by digging through it and then lowered the mat the man was lying on. When Jesus saw their faith, he said to the paralyzed man, "Son, your sins are forgiven."
Reflection: My dad passed away last November. If he were alive, today would be his 92nd birthday. He was a good man and by almost any measure, he wasn't spectacular or powerful. He didn't talk much about himself or promote his brand. He was an "ordinary guy." If someone needed help fixing their car or with a home project, he helped. He showed up for weddings, funerals, graduations, sporting events, band competitions and other life celebrations. He taught us that your friends and family are important, you celebrated with them in the good times and supported them in hard times. I have been thinking about him as I prepared this devotional. Like many people of his generation, he was an ordinary guy doing ordinary things and he was content to live his life that way.
The power of God can make ordinary people spectacular. Noah building an ark. Moses taking his people from Egypt to the Promised Land. The story of Ruth that reveals the loyalty and fidelity that binds families together. These are ordinary people whom God chose, they accepted the call and accomplished miraculous things. However, there are also many stories in the Bible of un-named people acting in powerful ways to help their friends and family. The men who lowered their friend through a roof so that Jesus could heal him. The widow who gave when she had so little to give. The Good Samaritan. Why don't we know their names? Are their actions less important to God? I believe they are un-named because they represent all of us. Every day we face choices. God doesn't want or need the spectacular from everyone; He wants us to care for each other and honor His commandment to love one another. In Paul's letter to the Ephesians 4:32, he says "and be kind to one another, tender-hearted, forgiving, one another, as God in Christ has forgiven you."
Prayer: Lord, open our hearts and minds to the opportunities that present themselves everyday so that we may honor you by helping and serving others. I know you can show us ways to love our neighbors and friends in large ways and small ways. Help us to be kind to one another. I ask this in your Son's name.
Keith Bierley
Staff Parish Relations Committee Chair, Keller UMC