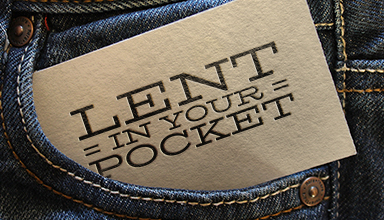 Lent in Your Pocket 3.18
Theme: As humans we often feel tempted to be relevant, spectacular, and powerful but we are limited. How do we live into who God has called us to be with the human limits we have?
Scripture: Mark 4:1-11
Then Jesus was led by the Spirit into the wilderness to be tempted by the devil. After fasting forty days and forty nights, he was hungry. The tempter came to him and said, "If you are the Son of God, tell these stones to become bread."
Jesus answered, "It is written: 'Man shall not live on bread alone, but on every word that comes from the mouth of God.'"
Then the devil took him to the holy city and had him stand on the highest point of the temple. "If you are the Son of God," he said, "throw yourself down. For it is written:
"'He will command his angels concerning you, and they will lift you up in their hands, so that you will not strike your foot against a stone.'"
Jesus answered him, "It is also written: 'Do not put the Lord your God to the test.'"
Again, the devil took him to a very high mountain and showed him all the kingdoms of the world and their splendor. "All this I will give you," he said, "if you will bow down and worship me."
Jesus said to him, "Away from me, Satan! For it is written: 'Worship the Lord your God, and serve him only.'"
Then the devil left him, and angels came and attended him.
Reflection: On Sunday I gave a children's sermon about how, in times of fear and anxiety, I wish I could see the future, for then I could know that I would make it through the fearful times. In the scripture text from today we are met with what I would call a very fearful time in Jesus' life. He is alone in the wilderness, with nothing to eat or drink, being tempted by Satan. Yet the scripture ends by saying, "and the angels came and attended him." In other words the angels protected him. In this scripture we can see into the future that we serve a God who never leaves us alone in the midst of our fears.
Today it would be hard for me to name the last time I have a conversation that did not feel ruled by fear. I mean, fear is everywhere right now. Some of this fear is incredibly responsible fear because we are aware there is a lot going on, but the other part of this fear feels incredibly unhealthy. We heard several different pieces of news and simply found ourselves spiraling.
So today I want to invite you into a bit of a lengthy reflection. I would like to invite you to go back to the devotionals you have received thus far. Reread the scriptures and ask yourself, "What hope does this scripture have for our world today?" Because the truth is, scripture is filled with hope, but sometimes, when our world feels chaotic, that is all we are able to see in the context of scripture.
But I promise you friends, there is hope in the scriptures, and when you feel hopeless, remember the angels have come to attend to us.
Prayer: God, thank you for these scriptures we can turn to in the midst of the chaos, reminding ourselves of who you are and what you are able to do in this world. Would you continue to calm our spirits and protect our bodies, as we seek to be people who live for you. Amen.
Rev. Lauren Christenberry
Pastor of Connectional Ministries, Keller UMC