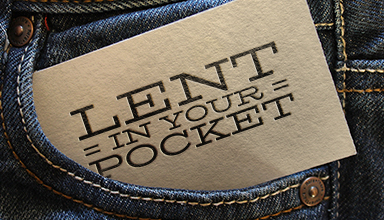 Lent in Your Pocket 3.17
Theme: As humans we often feel tempted to be relevant, spectacular, and powerful but we are limited. How do we live into who God has called us to be with the human limits we have?
Scripture: Ecclesiastes 4:18
This is what I have seen to be good: it is fitting to eat and drink and find enjoyment in all the toil with which one toils under the sun the few days of the life God gives us; for this is our lot.
Reflection: In 2002, a musician named Warren Zevon was interviewed on the late show with David Letterman. At that time, Zevon was dying of mesothelioma. Unlike every other night, Letterman didn't book any other guests for the hour. The entire show was just Letterman and Zevon, who talked about his illness and his music. At one point, Letterman asked Zevon "from your perspective now, do you know something about life and death that maybe I don't know?" Warren Zevon responded, saying: "You put more value in every minute...it's more valuable now. You're reminded to enjoy every sandwich."
The time that we have to enjoy life today is limited. We wake from sleep and the day stretches ahead of us, but one hour quickly passes to the next and before you know it, it is bedtime again. How do we faithfully live in the midst of the limits of life? Warren Zevon said "enjoy every sandwich." It's a funny response but there is surprising wisdom there. Find joy in the simple pleasures of life. In the cup of coffee you drink this morning; in the warmth of the sun on your face; in a song you listen to as you drive to work. God created this day for you and called it good. Receive the simple gifts God gives you. Recognize and rejoice in them. May God's gifts of this day bring you joy and move you to respond to God's grace by living differently. By following the example of Christ and giving yourself for others.
Prayer: Creator God, give me eyes to see the gifts you give me. Slow me down so that I will recognize your grace and not fly past it in my drive to defy my limits. May your Spirit move in my heart and change me from the inside out. Amen.
Rev. Estee Valendy
Co-Senior Pastor, Keller UMC