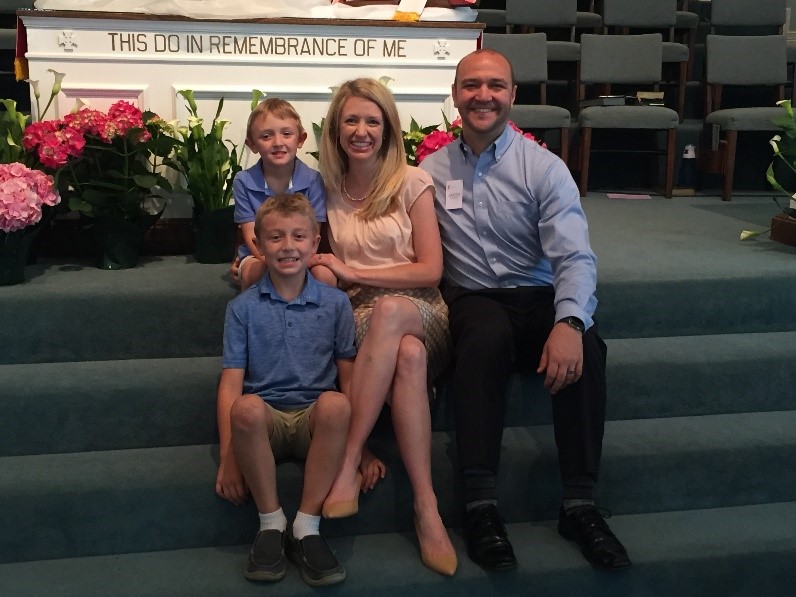 KUMC Welcomes New Co-Pastors
Starting July 1, Keller United Methodist Church is excited to welcome Rev. Jason Valendy and Rev. Estee Valendy as co-pastors. Pastor Jason and Pastor Estee were married at Keller United Methodist and now have two sons, Jude (11) and Evan (6). They have been serving as co-pastors in faithful ministry at Saginaw United Methodist for almost seven years.
About Pastor Estee
Pastor Estee was raised in Keller, Texas at Keller United Methodist. She received a Bachelor of Music in Sacred Music from Southwestern University in Georgetown, Texas, and her Master of Divinity degree from Brite Divinity School at Texas Christian University. Prior to her ministry in Saginaw, Pastor Estee served as an associate pastor at First United Methodist Church in Arlington for five years. In addition to her work as a co-pastor, Pastor Estee is the chair of the Order of Elders and serves on the Board of Ordained Ministry. She co-convenes the Mary and Elizabeth Coalition, a network to promote clergywomen's leadership in the Central Texas Conference. She received the Bishop's Award for Preaching Excellence in 2015. Pastor Estee feels called to help people discern the work of the Holy Spirit in their lives and to follow the example of Christ by giving themselves away in love for others.
Alongside her ministry, Pastor Estee devotes much of her time to parenting and finding joy in the chaos of family life with two growing boys. She loves reading novels (current favorite author: Louise Penny), going for walks and digging in the dirt. Her favorite books of the Bible are the Psalms and the Gospel of John and on her current playlist are JJ Heller, The Brilliance and the Hamilton soundtrack. Pastor Estee is thrilled about the opportunity to be in ministry with the people of Keller UMC.
About Pastor Jason
Pastor Jason was baptized, received a Bible, was confirmed, sensed a call into ministry and was married at Keller United Methodist Church. He received his Bachelor of Arts in Political Science from St. Mary's University in San Antonio, Texas and his Master of Divinity degree from Brite Divinity School at Texas Christian University. Currently he is pursuing a Doctorate in Ministry at Brite Divinity exploring the intersection of ancient Christian wisdom and contemporary leadership. Prior to his time serving at Saginaw UMC, he served as an associate minister at Arlington Heights for six years and as youth director at Meadowbrook UMC for one and a half years. In addition to his work as a co-pastor, Jason served on the Central Texas Conference delegation to General Conference and he serves on the Conference Finance and Administration Committee.
Pastor Jason enjoys being with his family, reading, writing and kicking the soccer ball around with his boys. His favorite scriptures are found in the Gospel of Mark and the prophets Hosea, Micah and Amos. Beyond listening to his wife play the piano and sing, Pastor Jason is not very musical. He is more interested in stand up comedy and spoken word stories. He is always on the look out for the next podcast show to listen to, so get your suggestions ready! Pastor Jason is very humbled to be called to serve alongside the saints of his home church and is grateful for a God who holds a future with hope.