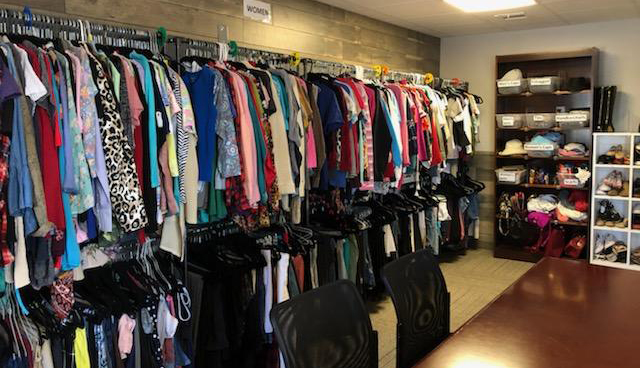 KUMC Clothing Closet Opens
Three years ago, Keller UMC heard the need of the community and opened the Resource Center to provide food for those struggling with food insecurity. The Resource Center currently provides close to 100 families with food each week. Last year during COVID, we once again heard of a great need from not only Resource Center guests, but Keller ISD. So, Keller UMC felt the call and opened a Clothing Closet adjacent to the food pantry at the Resource Center. Wednesday, October 6, was our first day to distribute clothes to those families in need.
When you think about clothes banks or closets, you might think about the thrift stores run by local non-profit organizations such as The Salvation Army and Goodwill, with racks and racks of clothing that have been donated and are available for purchase. And you might assume that all clothing closets operate the same way that those thrift stores do, with everyday and formal dresses, pants, business wear, shoes, wedding dresses and so on, lining the racks and shelves. But when we look at a clothing closet to meet the needs of our community, it looks quite a bit different than that thrift store. But why does it look different? Well… the answer lays in who is receiving the clothing.
Issue #1 – The Weight of it All
What are the basic needs? Food, water, clothing, sleep and shelter are bare necessities for anyone's survival. For many people, these basic needs cannot be met without help, especially in this volatile world exposed by COVID. The world becomes hopeless and heavy when you are struggling without these basics. Meeting these needs provides dignity and hope for families struggling to face other obstacles and circumstance. A full wardrobe isn't what will solve the problem; however, if people are clothed and fed, they are given hope, and hope provides them the motivation to keep pressing forward.
Issue #2 – Truancy Troubles
For many children in our community, school is a place where they learn, have friends, eat breakfast and lunch and are able to grow and have fun. But what about going to school only having a few outfits to wear? It becomes a source of embarrassment and makes them a target for being bullied. One of the key indicators to teachers that children might be in trouble is their clothing condition. If children come to school in soiled clothes or the same clothes every day, social workers may become involved. Often times, it is revealed that there are even more hardships for these students. While these teachers and social workers do their very best to make sure children are in safe environments, many families are scared of the potential that their children might be placed in alternative living arrangements. Rather than going to school in dirty clothing, children are sometimes kept at home or skip school and miss out on an important opportunity for education. According to social workers within the Keller ISD school district, right now there are approximately 150 homeless kids with in the district. That number will likely increase to close to 300 children by the end of the school year. The need to greater than we realize.
Issue #2 – Why Should We Help?
Why is it important to clothe our neighbors? Well, truthfully, scripture tells us to! When we offer goods to the community in need, we form relationships and witness to them. We share the love of Jesus with those who need it most.
Matthew 25: 35-40
Then the King will say to those on his right, 'Come, you who are blessed by my Father, inherit the kingdom prepared for you from the foundation of the world. For I was hungry and you gave me food, I was thirsty and you gave me drink, I was a stranger and you welcomed me, I was naked and you clothed me, I was sick and you visited me, I was in prison and you came to me.' Then the righteous will answer him saying, 'Lord, when did we see you hungry and feed you, or thirsty and give you drink? And when did we see you a stranger and welcome you, or naked and clothe you?' And the King will answer them, 'Truly, I say to you, as you did it to one of the least of these my brothers, you did it to me.'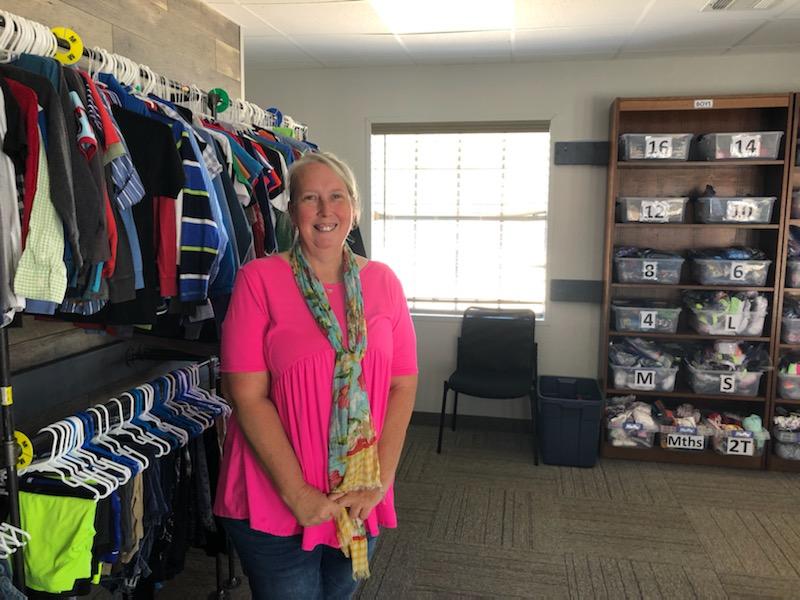 The Resource Center has made a huge difference in our community. We are thankful for an amazing congregation that has embraced "hearts turning towards God and neighbor" and supported the Resource Center. Because of you and your generosity, we received an overabundance of clothes for the launch of the Clothing Closet.
Do you want to help make a difference? We still need volunteers as personal shoppers for the Clothing Closet on Wednesday evenings. We also need volunteers to help organize, sort and hang clothes during the week. Please sign up here. If you have any questions, please email Cathy Dill or call her at 817-431-1332.