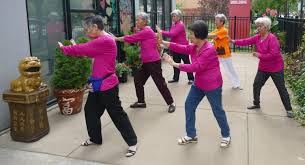 Fall Prevention
What are the facts?
According to the National Council on Aging (ncoa.org), falls are the leading cause of fatal and non-fatal injuries for older Americans. The Centers for Disease Control report that 1 in 4 Americans age 65+ falls each year and every 11 seconds an older adult is treated in the emergency room for a fall. Every 19 minutes an older adult dies from a fall. Falls impact senior safety and independence, and fall injuries and hospitalizations burden our healthcare systems and Medicare/Medicaid to the tune of fifty billion dollars per year. One bad fall can have a permanent negative effect on a senior's quality of life or lead to an early death.
What is my risk?
New this year, the National Council on Aging has created a falls free checkup to determine your risk. It's an easy to take online, twelve question assessment with yes/no answers. You'll receive an immediate score at the end with a copy of the quiz that you can print and share with your physician and/or loved ones. Being aware of your risk is helpful as you may find actions you can take now to reduce it. Click here to take the assessment.
What can I do to reduce my risk?
Knowing that you are at risk is an important step towards improvement. Most falls can be prevented, and awareness is key. Discuss your risk and concerns about falling with your health care provider and family. Fall prevention is a team effort and everyone wants to help you maintain your mobility and reduce your risk. Exercising, managing your medications, having your vision and hearing checked regularly and making your home environment safer are all actions you can take to prevent a fall. Let's look at some specific ideas. Web addresses are listed below the article.
Exercising and Fall Prevention Education
You can gain strength and flexibility at any age. It's never too late to start, even during a pandemic. Look for evidence-based programs such as "A Matter of Balance" and Tai Chi. In October, Sixty and Better will release information on a new virtual version of "A Matter of Balance" you can do from your home. They also offer "Walk with Ease" and "Aging Mastery" classes which contain fall prevention components. Our local Keller Senior Activities Center offers Tai Chi classes on YouTube while the center is closed. Once the senior center reopens, they will offer in-person classes for Tai Chi, Chair Yoga, and they host "A Matter of Balance" sessions several times per year which are run by Baylor Scott & White. Group exercise classes geared towards seniors such as Silver Sneakers and Sit and Be Fit are easily accessible and include fall prevention exercises. Silver Sneakers is included with many Medicare plans and they are currently offering free classes through their Facebook page and in-person classes at Northpark YMCA. Sit and Be Fit runs on our local PBS channels and on their website. Tai Chi and water aerobics are available through Keller Pointe. Gentle Everyday Yoga is available at KUMC, meeting via Zoom during our COVID closure. Remember before beginning any exercise program, check with your doctor to get his/her approval and talk to them about any specific balance issues you have. You may qualify for physical therapy to improve your balance.
Medications
Some medications can cause dizziness, fatigue, drowsiness, frequent urination or dehydration. Even over the counter medications can have side effects that put you at risk for falling. Talk to your pharmacist or doctor about your medications, including over the counter medications to identify which ones may put you at risk for falls. Work out a plan to look at safer alternatives, reduce dosages or alter the time of day you take the medication.
Vision/Hearing
Get an annual eye exam and update your eyeglasses as needed. As our eyes age, less light reaches the retina. Bifocals can cause issues on uneven surfaces or stairs. Aging eyes adjust more slowly to dramatic changes in light such as coming in from bright sun to a darkened home. Give your eyes time to adjust before taking those first few steps. New research suggests hearing loss can also contribute to falls so make hearing tests part of your routine health plan.
Home environment
Do a walk-through safety assessment of your home. This may be especially helpful to do with someone who doesn't live with you as they can see your surroundings from a fresh point of view. Look for dimly lit areas, especially near stairs. Be alert to loose rugs, uneven flooring, wires or clutter on the floor; move all from the traffic way of the home. Add nightlights around your bed and in your bathroom for when you need to get up in the middle of the night. Consider adding rails to both sides of the stairs if needed. In the bathroom, place grab bars to help you get in and out of the tub/shower safely and near the toilet. A shower chair with a handheld sprayer allows those that fatigue easily to sit during their shower. And don't forget a non-slip mat inside and outside of the tub.

Other conditions you may have can increase your risk for falls. Osteoporosis, osteoarthritis, diabetes, immobility, obesity, poor diet and many other diseases all contribute to increasing your risk. Leading a healthy lifestyle, managing chronic illnesses and addressing depression or other mental illness improve not only your outlook on life but also lessens your risk of falls. Take steps now to prevent a future fall.
We'd love to hear from you! Send us your questions and suggestions for future topics. Email us at .
Where can I find more information on preventing falls and what programs are available near me?
Tarrant County Area Agency on Aging
Aging and Disability Resource Center of Tarrant County
Centers for Disease Control and Prevention
Keller Senior Activities Center
Texas Health Resources EMMI video "Preventing Falls at Home
Free videos and webinars this week through UNTHSC and Texas A&M:
www.Unthsc.edu/community-relations/fall-prevention-week