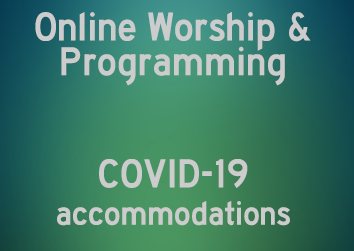 COVID-19 Accommodations
Worship with us Online Only
This Sunday, March 22, at 9:30 and 11am.
Join us via Livestream or Facebook Live.
Digital worship guides will be available.

KUMC facilities are closed due to COVID-19 until March 29. Staff are currently working remotely and only in the office as necessary. The situation will be re-evaluated on a weekly basis and updates will be provided. We are working on providing online tools for programming in addition to worship and details are forthcoming. If you have questions, please email and someone will respond.

Our Church Is Creating New Ways for Us to Connect With and Serve Those in Need.

If you would like to volunteer your time to make phone calls to check in on one another, or deliver groceries and run errands for those in our church family who need help, click here to let us know of your interest.

If you or someone you know is in need, click here so that we can respond.

The KUMC Resource Center will be operating as a mobile pantry at this time. Clients will remain in vehicles and food will be delivered to their car. Normal hours will apply. Contact Cathy Dill to serve.

Meals on Wheels will operate from The Friends of the Keller Library, located at 137 Taylor St., Keller, TX 76248, March 18-29. Contact Tina Lipman at 817-888-2403 with questions.

Lay Leadership teams will be meeting via email, Zoom video conferencing or postponed if need be. Team members will be notified as decisions are made.

An informational page linked from the kellerumc.org home page will be available later today, offering the latest updates, links and news you will want to know. We hope this will be a useful tool during as we figure things out!