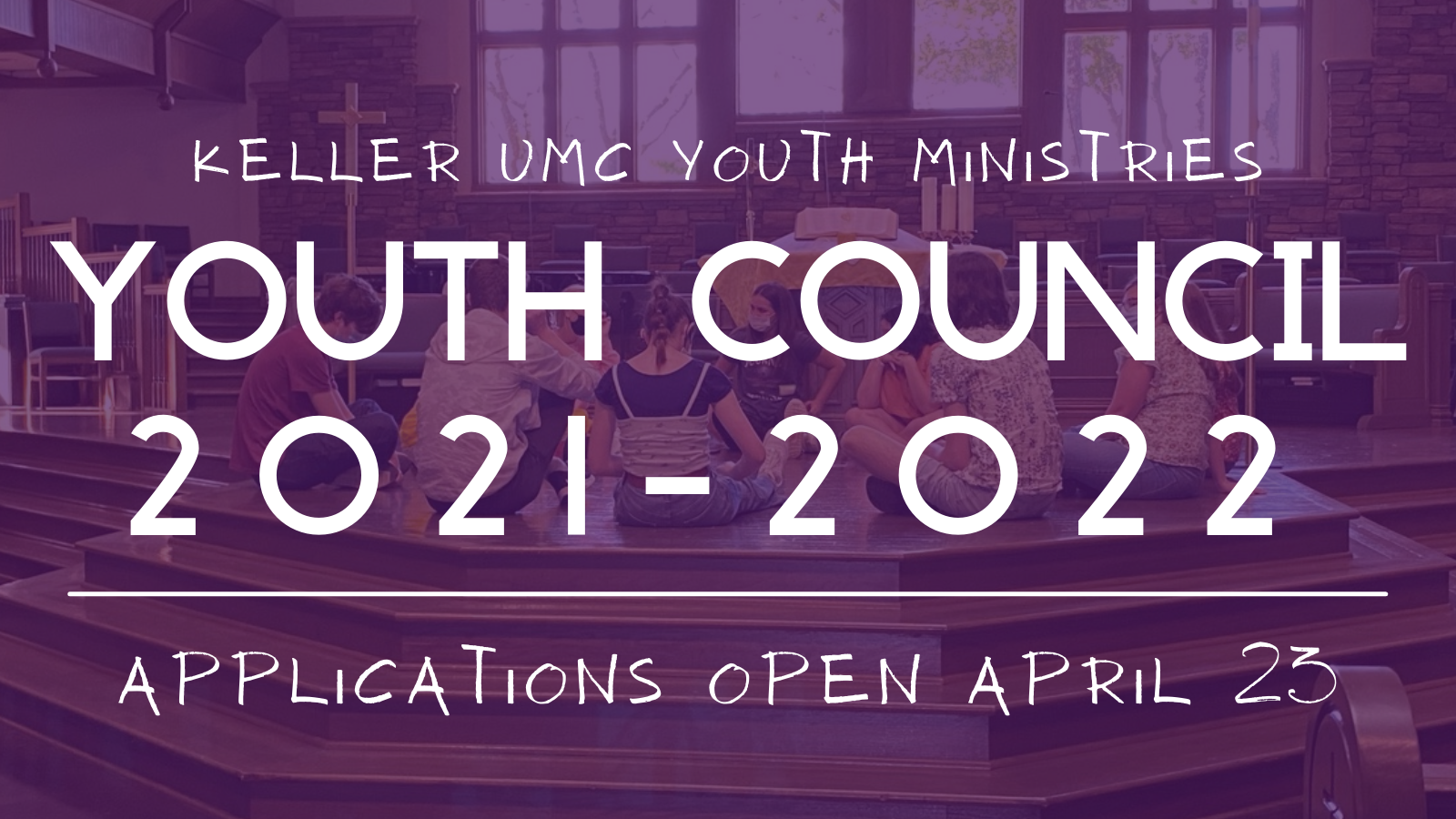 Apply for Youth Council
It's time to apply for the Keller UMC Youth Ministries Council! Each year, we select one student per grade to assist in the dreaming, planning, and executing of youth programs and events. Applications are open to rising 8th graders through rising high school seniors. Please, apply according to your grade for the 2021-2022 school year. Applications open on April 23 and close on May 31. We encourage all students active in the Youth Ministries Program to apply! Students who currently hold positions on the Youth Council will need to complete a new application if they wish to serve in the '21-'22 class of leaders. Applications will be reviewed by the Director of Youth Ministries, the adult volunteers who serve on Youth Council, and the youth representatives on the Keller UMC Ministry Council. Please note, the youth representatives have a voice in the review process but do not vote on new council members.
What is Youth Council?
We are a team of young people and adult volunteers striving to create an open and welcoming environment that encourages all students to seek a relationship with God. We cultivate leadership skills in our student officers and aim to create student leadership opportunities outside of the Youth Council as well.
What did Youth Council achieve in the 2020-2021 school year?
2020 was the inaugural year for Keller UMC's Youth Ministries Council. In this first year, our team of students oversaw the development of Family Groups, a student-led outreach program. These groups fostered stronger bonds between Youth Group members and increased participation rates at our weekly programming. Students on Youth Council also advocated for more youth visibility across church programming. The result was an increase of youth voices in worship services, in weekly youth programming, and on social media platforms.
Why should I serve on Youth Council?
Your youth program needs you! We celebrate a diversity of voices in student leadership. Each person offers a different perspective and brings unique ideas to the table. Your voice is important!
What if I have more questions?
If you have more questions, please reach out to one of our student leaders or the Director of Youth Ministries, Abigail Herrington.
Complete your application here!