In-person Worship at KUMC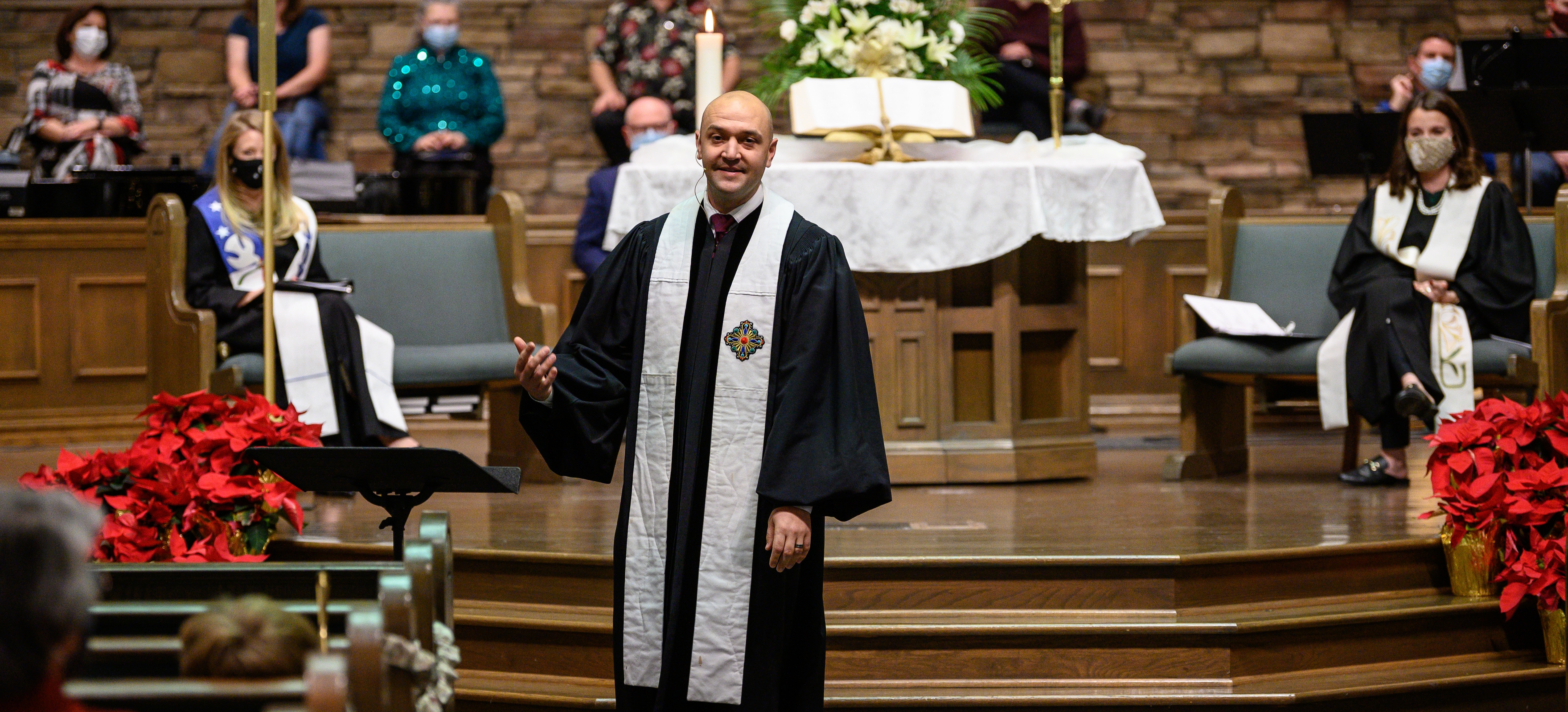 Join us for our 9am Band-led Worship Service or our 11am Traditional Worship Service. In between these worship services, the Sanctuary is sanitized. The Sanctuary needs to be empty of people during this cleaning period and the Sanctuary doors must remain closed.
WHAT TO BRING
We require that you wear a mask covering the nose and mouth at all times while on campus; if you don't have one, a greeter can provide you with one.

Please feel free to bring your Bible or electronic device; Bibles and hymnals have been removed from the pews, as they would be damaged by the

sanitation

process.

Offering plates will not be passed during the worship services; boxes will be available to collect offerings at the entrance of the Sanctuary, or you may choose to give electronically.
WHAT TO EXPECT
Plan to enter through the main Sanctuary doors, or the porte cochere. All other entrances will be closed.

Pews will be marked off to keep households/individuals six feet apart.

Bring the whole family - children are welcome to join their parents for worship and children's packets will be provided. (Children and Youth Sunday school are not yet meeting.

Nursery care is available for children ages 12 weeks through 3 years old. Class ratios will be kept small as nursery care returns to protect children and staff. If all spots fill up your child will be placed on a wait list. We will contact you if we are able to honor your request. Staff and volunteers will be required to wear masks at all times. Everyone will sanitize their hands upon entry to class. Classrooms will be sanitized between services. Make your reservation here!

Please greet one another safely, with a friendly wave instead of hugs or handshakes.

Be sure to maintain six-feet of distance from people who don't live with you.
OUR COVENANT FOR SAFETY
In-person worship can only happen if all worshippers take responsibility for their health and the safety of those in the Sanctuary with them. When worshippers register to attend a service, they will receive an email that asks them to covenant in the following ways:
Wear a mask properly, so that it covers both nose and mouth. Masks must be worn the entire time we are in the building together.

Remain six-feet apart from anyone we are not in a household with.

Stay home if you have been in contact with a person with a confirmed or presumed diagnosis of COVID-19.

Stay home if your child is quarantined from school.

Stay home if you have any flu-like symptoms.

Report if you or anyone in your household exhibits COVID-19 symptoms or tests positive for COVID-19 within 14 days of attending a worship service. Your name will remain confidential.
YELLOW LIGHT APPROACH
The Ministry Council of KUMC has adopted a stoplight approach to resuming in-person opportunities. We are moving into hybrid worship with caution and care, vigilant that we are still in the "yellow light phase." If you choose to come to in-person worship on Sunday mornings, you may experience that worship will not feel "back to normal" yet. Wearing masks, making reservations, and keeping our distance from one another will all contribute to a feeling that worship is not like it was pre-pandemic. It is going to take some time for "normal" to return. We believe resuming in-person worship at this time is a small step in this direction, but it will be many more months before the entire worshipping congregation is together again.
Additionally, our cautious moving forward through a "yellow light phase" looks forward to a green light phase of full ministry return. But it is also possible that the light may turn red again and community spread of the virus could lead to a suspension of in-person worship. We cannot predict the future and ask you to give grace if plans should need to temporarily change.