In-person Worship at KUMC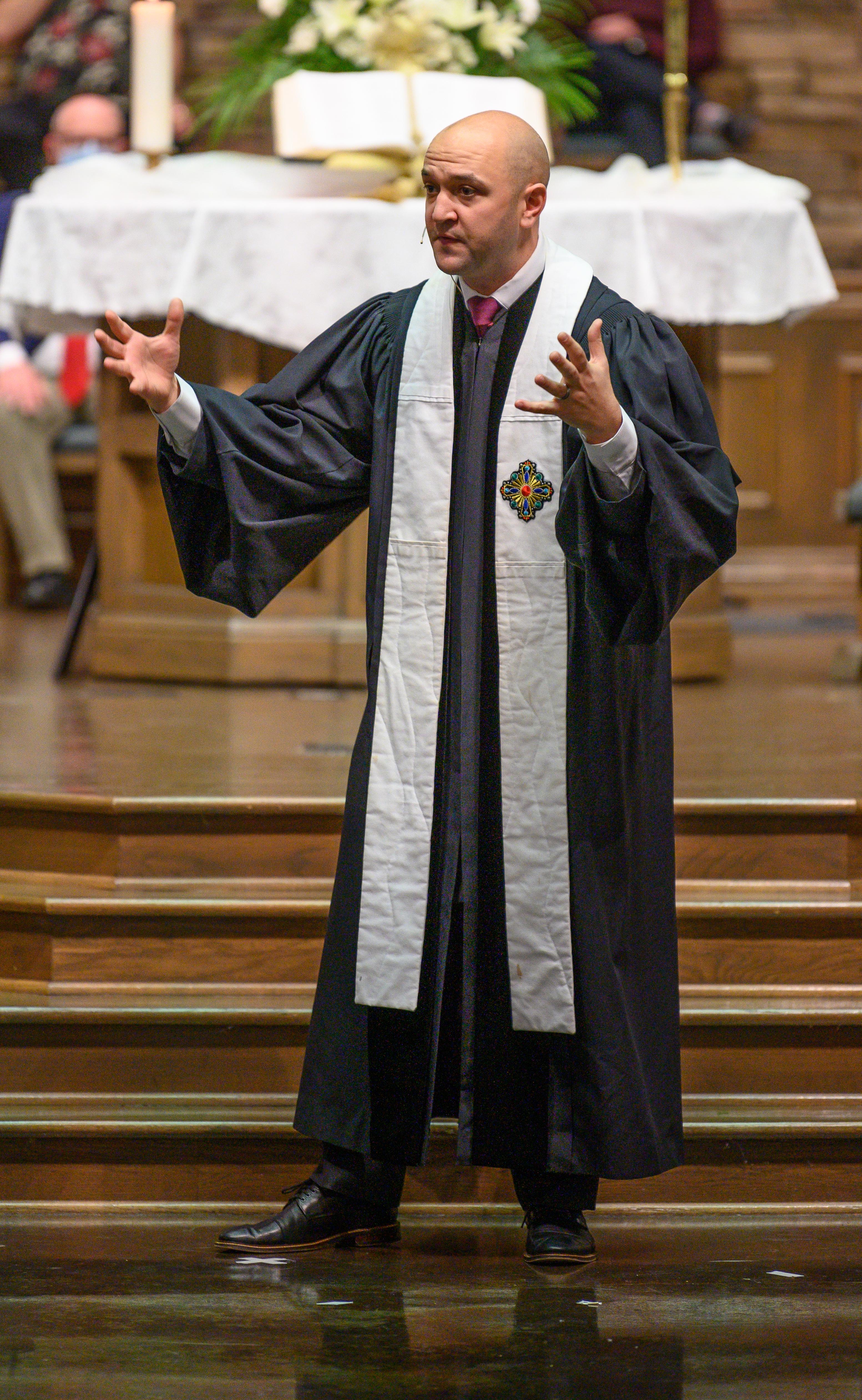 Join us in-person for our 9am Band-led Worship Service or our 11am Traditional Worship Service. Reservations are not required for worship and we welcome all who desire to worship in-person to join us.
WHAT TO EXPECT
Plan to enter through the main Sanctuary doors, or the porte cochere. All other entrances will be closed.

Bring the whole family - children are welcome to join their parents for worship and children's packets will be provided. (Children and Youth Sunday school are not yet meeting.

Nursery care is available for children ages 12 weeks through 3 years old. Class ratios will be kept small as nursery care returns to protect children and staff. If all spots fill up your child will be placed on a wait list. We will contact you if we are able to honor your request. Staff and volunteers will be required to wear masks at all times. Everyone will sanitize their hands upon entry to class. Classrooms will be sanitized between services. Make your childcare reservation here!

Please greet one another safely, with a friendly wave instead of hugs or handshakes.
OUR COVENANT FOR SAFETY
In-person worship can only happen if all worshippers take responsibility for their health and the safety of those in the Sanctuary with them. Please help us ensure the safety of all by abiding by this covenant when worshipping in the Sanctuary:
In accordance with the new, exciting CDC update, vaccinated individuals may remove their masks in worship, and we ask that others continue to wear them until the CDC provides new recommendations. Throughout the pandemic, you have proven to be a church family that cares deeply for one another. As we take another step closer to handshakes and hugs, we know that you will continue to act out of sacrificial love for one another, considering the needs of your church, community and world above the individual.

Stay home if you have been in contact with a person with a confirmed or presumed diagnosis of COVID-19.

Stay home if your child is quarantined from school.

Stay home if you have any flu-like symptoms.

Report if you or anyone in your household exhibits COVID-19 symptoms or tests positive for COVID-19 within 14 days of attending a worship service. Your name will remain confidential.
YELLOW LIGHT APPROACH
The Ministry Council of KUMC has adopted a stoplight approach to resuming in-person opportunities. We are moving into hybrid worship with caution and care, vigilant that we are still in the "yellow light phase." If you choose to come to in-person worship on Sunday mornings, you may experience that worship will not feel "back to normal" yet. Wearing masks, making reservations, and keeping our distance from one another will all contribute to a feeling that worship is not like it was pre-pandemic. It is going to take some time for "normal" to return. We believe resuming in-person worship at this time is a small step in this direction, but it will be many more months before the entire worshipping congregation is together again.
Additionally, our cautious moving forward through a "yellow light phase" looks forward to a green light phase of full ministry return. But it is also possible that the light may turn red again and community spread of the virus could lead to a suspension of in-person worship. We cannot predict the future and ask you to give grace if plans should need to temporarily change.