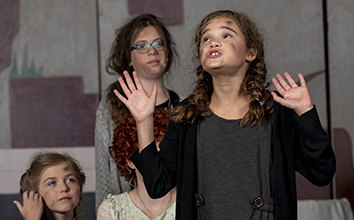 Why Take Part in Summer Theater Workshop?
Why does our church do a Summer Theater Workshop? For three weeks every summer, Keller United Methodist Church opens its doors to kids from the community to gather together for Summer Theater Workshop. Some have never set foot on a stage, while others perform regularly in their high school productions. Some take a risk by simply walking through the door the first day since they don't know anyone. Others come back year after year, looking forward to reconnecting with friends from summers past. For three weeks they work. They connect. They bond. As they are learning the choreography, blocking and music, something remarkable happens. They learn about community. They learn about coming together for a cause that is bigger than themselves. They learn about kids from the Methodist Children's Home in Waco who will benefit from the money raised by their performances.
Summer Theater Workshop is so much more than "just a musical." If your child has an interest, we encourage you to let them be a part of the magic. Auditions for second graders through college freshman are coming up in May and the workshop and performances take place in July. This is a wonderful opportunity for kids to come together in a safe and secure environment to learn, play and share Christ's love.
Performances are free and donations will benefit the Methodist Children's Home in Waco.
Get details and registration information on this year's productions, Alice in Wonderland, Jr.