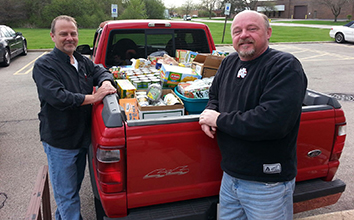 Drivers Needed for the KUMC Resource Center
The Keller UMC Resource Center is open to all those in need of food assistance from Keller and surrounding communities. We are committed to serving and connecting our congregation and our neighbors in ways that build healthy communities.
In March, we served 106 households, 479 guests, 247 children under 18, and 27 guests over 65. We were able to accomplish this with over 52 volunteers working to help serve our community by either picking up food from the Tarrant Area Food Bank, stocking shelves, greeting guests and processing intake, helping guests shop for food and loading their groceries in the guest's vehicles.
The Resource Center is now accepting applications to be a part of the Resource Center Team of volunteers. We are looking for:
TAFB Food Pick-Up Team Members
How will you serve:
On your designated Monday, drive to the Tarrant Area Food Bank, pick up the Resource Center food order, deliver to the Keller UMC Resource Center and unload the food.
Time Requirement: Approximately four hours on Monday mornings at least once per month.
Skills: Ability to lift up to 50 lbs. Would be helpful to have a three-quarter ton truck.
If you have questions, please contact Page Hines.